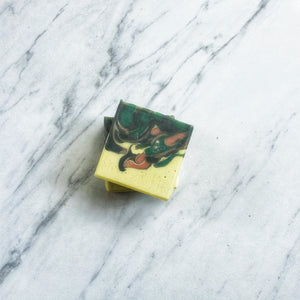 Drop In Soap
Vendor:  Cale + Simone
About:  The  slight sultry scent of Black Jasmine and Amber entices you to linger just a little bit longer in the shower.

Most bar soaps strip the skin of its natural oils all in the name of cleansing, but not this soap.  It was formulated to leave your skin feeling fresh without the itchy, dry skin. Made with skin loving oils that are known to seal in moisture.
Weight:  Net Weight 4 oz. Please note that soaps are hand cut so actual weight may vary slightly.
How To Store:  To prolong the life of your bar, allow it to fully dry using a vented soap dish and keep it away from moisture or direct streams of water in between use. 
Ingredients:  Cocos nucifera (Coconut) Oil, Aqua (Water), Olea Europaea (Olive) Fruit Oil, Persea gratissima (Avocado) Oil,  Vitellaria paradoxa (Shea) Butter, Sodium Hydroxide, Cucurbita pepo (Pumpkin) Seed Oil, Ricinus Communis (Castor) OIl, Fragrance Oil, Mica powder, Titanium Dioxide
*Ingredients in bold are certified organic