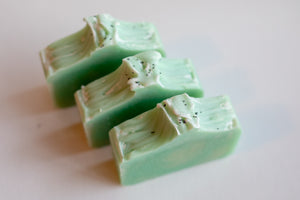 Eucalyptus & Peppermint Soap
Vendor:  Enchantment Essentials
Fragrance: Eucalyptus and Peppermint essential oil blend. Peppermint has a cooling, refreshing effect and is widely used to enhance mental alertness.  The fresh aromatic scent of eucalyptus will sooth your muscles and clear your nasal passages.  The overall effect is purifying, refreshing, and energizing.
About : Each soap comes wrapped and labeled.
Weight : Net Weight 4-5oz. Please note that soaps are hand cut so actual weight may vary slightly.
To Use : Keep your soaps in a dry, ventilated area when not in use. By creating an ideal environment, your soaps will last far longer.
Ingredients : Saponified oils of – Olive oil, Coconut Oil, Sustainable Palm Oil, Unrefined Fair Trade Shea Butter, Distilled Water, Mica, Essential oil